Why is Organic SEO Search favoured by Small to Medium Enterprises?
What is "Organic SEO"?
National and international clients in small and medium enterprises continue to choose us as their Search Engine Optimisation (SEO) and web development team. With each new meeting, we encounter many questions and a yearning to better understand Google's algorithms, SEO, search engine marketing SEM and more. We are asked how a business can be benefited by having an online presence and what would the return on investment be?
"Lead generation born from an effectively managed online presence is invaluable" – Senka (Founder of Top 10 SEO).
Before founding Organic Top 10 SEO Sydney, I was one of the architects behind this company that was launched in 2000. Nineteen years on and I am still meeting people who have brilliant companies that are struggling and in serious need of upgrading their website to build an effective online presence.
The world of SEO is filled with acronyms and unfamiliar terms to most. First, SEO stands for Search Engine Optimisation. Along with this, you'll most likely have come across (or will come across) lead generation, click-through rate, conversions, links, landing pages, bounce rates, home pages and much more. Over time, you will become familiar with the language and eventually understand it. For now, the most important point to focus your attention on is SEO.
Lets take a look at What is "SEO"?
Ever wondered how Google decides which search results appear first? Or why is your business not ranking while your competitors or similar companies are?
In the milliseconds it takes for a search engine result page (SERP) to load, in the background, websites around the world are being assessed and compared to give the searcher the best and most relevant result as the answer to the query that is typed into Google by the user.
Google compares things like a website's load speed, quality and relevance of unique content, use of authoritative backlinks, title tags, keywords, mobile usability and much more. There are said to be about 200 or more different criteria used in each SERP (Sebald 2017). The higher a website ranks in these areas, the higher it will be in search results. When we talk about search engine optimisation, we talk about optimising a website for search engine results.
The goal is to have page one results with many keyword phrases that you do not need to pay Google for continuously. When a website is optimised for search engine results, it is also optimised for people as well. Google's top-ranked websites are at the top because they work successfully within Google's mission for trust, transparency and great user experiences. There is no benefit to a company paying for Google Ads, only to have people visit the website and leave straight away (causing a high 'bounce rate').
Searchers are not waiting for pages to load, nor are they waiting to be engaged. It is too easy to fast forward, skip, scroll past and be drawn to another website (Hepburn, cited in Brownlow 2019).
Your business must 'own' keywords
To be ranked well and show results relevant to your business, your business's website has to 'own' keywords. We don't mean you need to part with any hard-earned cash. What we mean is being the top organic result for specific keywords.
Keywords are the search terms currently used by your future clients searching for what they want. If your car breaks down and you need a new mechanic, you will turn to Google and search for something like 'car mechanic near me and voila! You have results. "Car mechanic near me" is a search term AND a keyword that local mechanics would want to 'own', so you call through the first four results to get comparative quotes.
You provide a unique and exclusive service, so search results should reflect this. Keywords are key! You want to own as many keywords relevant to your niche market as possible, so you are the top result no matter what search terms people use to look for companies like yours.
You may be able to gain traction with some keywords quickly, while others may take some time to 'own' and is within reach. We have seen it happen with all our clients to date over the years and still holding page one position organically!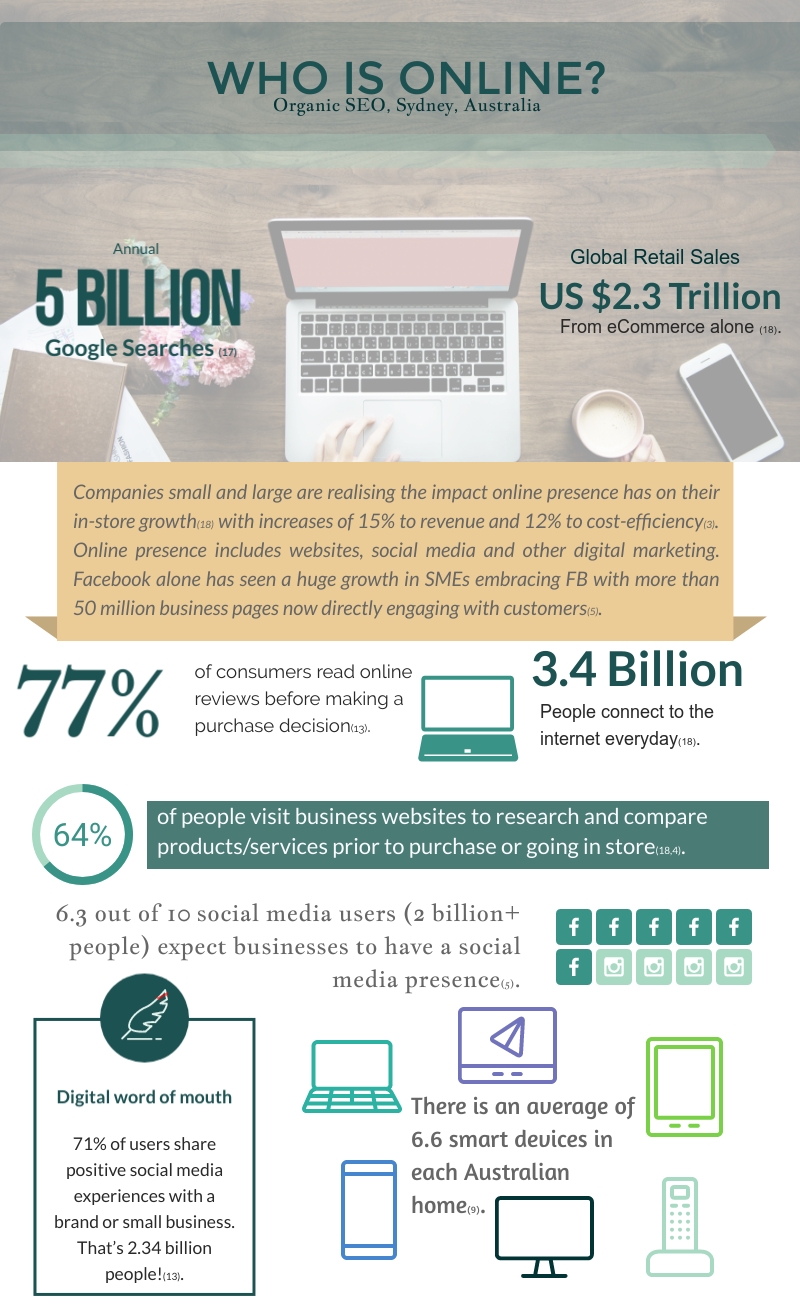 SEO is essential to all website types, including service, e-commerce, social, and more
No website can survive long enough without effective SEO strategies
Whether you are selling directly to the customer or business from your website, or offering a local service, or trying to connect with your local community, SEO is important. The data gathered on your website does not lie.
900% increase in website traffic (as experienced by our client, Summer Hill Wine Shop).

What would happen in your business if the number of visitors increased by 900%? If you own a bakery and your average sale is $8 per person with 150 customers per day and half of your new visitors make the average sale, you've increased your bottom line by almost $5.5k.
In just one case study by Kirkpatrick (2015) of Marketing Sherpa, a chemical supply company, saw an increase of 33% in organic traffic and, as a direct result, a 25% boost in revenue.
Inbound leads cost 60% less! (Faustino 2010). SEO is an essential influencer to inbound leads, which (compared to outbound leads) is far more effective and the cost is significantly less (Patrutiu-Baltes 2016).

Inbound leads are made by people already interested in your industry/business/products/quality content (your target audience), so the chances of converting them to customers are much higher.
93% of people who connect to the internet start by opening a search engine page (La Barbera 2013).
As well to text and image searches, Google is leading the future of voice search, which is ideal for scenarios where typing isn't possible or safe (Nayak 2019).
 What is "Organic" SEO?
Google are pushing forward their message of transparency and trust by making it clear on every search results page which results are paid for and which are organic (Nayak 2019).
An organic result on page 1 is where you want to be for the keywords you are working on 'owning'. Page one contains the top ten organic results and, at times, the extra three when Google Business pages appear.
Organic SEO is multi-faceted. There are many ways we go to work on creating websites and entire online presences to be search engine optimised organically. Perhaps the SEO we have incorporated in this page has helped the Google bots to allow us to be visible in front of you, to now read this blog!
Organic Top 10 SEO does not cost you money every time someone clicks on a result (unlike paid advertising, also known as Pay Per Click (PPC). You may have already noted the paid advertising on Google search results pages. At the very top of the results page, there are usually a few results that feature a little tag 'ad', which tells us that the websites have paid to be there. At times Google will also ensure another two ads are visible at the very bottom of the page.
Paid advertising has its merits; however, inbound marketing is much more powerful, as it delivers relevant and quality content to the customers who convert. We all know what is paid for in results and for the vast majority of us, we automatically skip past them and click on the first organic result. The reason for this behaviour is that most users know that websites placed organically on page one have earned their position there. This is what gives them authority and trust.
We trust organic listings. We have seen a range between 70% and 80% of people who skip paid ad results. In an eye-tracking study, the percentage was 78.5% (Maynes 2016), while in research done by Oak City Tech (2018), 90% of people skip over paid ads.
Target Locked -> Organic Listings on Page 1 <-
Integrating Organic SEO into websites
We have covered:
What SEO is;
Why you need to 'own';
The importance of SEO and having a complete online presence.
"What keywords and phrases should I be integrating?"
The team at Organic Top 10 SEO can help you with this; however, if you want to start by yourself, start typing in keywords into Google that is relevant to your business. Google will automatically start offering endings to your keywords based on popular searches.
"Where do I place the keywords?"
Once you've identified your keywords or phrases, start including them in your content, the home page, the about us page, and other pages.
"How many words should be on each website page and in my blogs?"
For almost two decades, Organic Top 10 SEO has been testing what works and what doesn't. As each new algorithm is released and tested, we are ready to ensure our clients get the best results possible. There's plenty of industry discussion about the minimum word count so that you are SEO-friendly. We recommend 500+ words at least. If your word count runs over, that is fine! The more, the merrier. Just make sure your content is relevant and engaging for the reader.
"Do I need a blog?"
Yes! Set up a blog on your website right now if you don't already have one! The more pages you have that you can incorporate SEO into, the more chances you have of being found by Google AND you will also be offering quality content to your current and future customers. This is inbound marketing at its finest! Put notes in your calendar to remind you to publish regular (quality) blogs.
Call the professionals at Organic Top 10 SEO in Sydney for our specialised services
If you try researching and integrating keywords yourself, you may find it trickier than first thought. Some keywords and phrases don't have many people competing for their own, while others are a battlefield. SEO takes time and tried and true tested methods. If you aren't sure you are on the right track or need to call in the experts to look at your, Top 10 SEO are the go-to team. You may also find that while you are trying to run your business, there isn't much time to dedicate to your online presence. Managing an entire online presence can be a full-time job in itself, as Google is forever changing their algorithms!
Questions and queries are welcome. We want to see you do well, so don't hesitate to contact us via our contact page or by phone at +61 2 9569 6580.
References

1 > Brownlow, M 2019, 'Joining the Dots: The Future of Creativity in Australia', Google
2 > Faustino, T 2010, '5 Insights From Hubspot's The State of Inbound Marketing 2010 Webinar', Social Media ReInvention, viewed 16 April 2019
3 > Finch, 2018, 'The CMO of 2020: Navigating the Journey Towards Digital Marketing Maturity in Australia and New Zealand', Google.
4 > Google 2018, 'Innovative Australian Research Unveils the Path to Purchase for International Flights', Think With Google.
5 > Hainla, L 2019, '21 Social Media Marketing Statistics You Need to Know in 2019', Dream Grow, viewed 12 April 2019.
6 > Kirkpatrick, D 2015, 'Search Engine Optimization: Website Overhaul Increases Revenue Tracked to Organic Traffic 25%', Marketing Sherpa, viewed 14 April 2019.
7 > La Barbera, V 2013?, '8 SEO Stats That are Hard to Ignore', imForza, viewed 16 April 2019.
8 > Maynes, R 2016, 'Eye Tracking in 2016: How Searchers Interact with Mobile SERPs vs. Desktop', Moz, viewed 16 April 2019.
9 > Nayak, P 2019, Behind the Scenes at The Future of Search, video recording, YouTube, viewed 12 April 2019.
10 > Oak City Tech 2018, 'Do People Actually Click on Paid Ads in Google?', Oak City Tech, viewed 16 April 2019.
11 > Rodela, J 2017, '77% of People Read Online Reviews Before Buying: Are They Finding You?', com, viewed 12 April 2019.
12 > Sophy, J 2018, '74 Percent of Small Business Websites Have No E-commerce', Small Business Trends, viewed 12 April 2019.
13 > Standberry, S 2015, 'SEO ROI: How Much Revenue Does SEO Produce?', Lyfe Marketing, viewed 14 April 2019.
14 > Stevens, J 2018, 'Internet Stats and Facts for 2019', Hosting Facts, accessed 12 March 2019.