What is a Google Business Page and why is it so important?

This little piece of real estate on page 1 of Google, is an essential part of being visible on search organically. Strangely, not all business owners are aware of it! As a result, keeping pumping money into Google Ads thinking it is benefiting their site somehow? Not! – Google's My Business Listings.
It's a little thing that can lead to a lot of business, and the team at Top 10 SEO are happy to help you create your Google business listing and to fully optimise it with SEO, including all the new features Google have rolled out within it recently.
One in three Google searches are made by people intending to find a local business (Triad Web Design Service 2018).
Why Create a Google My Business Page for Listings?
You may have noticed that when you search on Google for a local business, results giving all the business details are provided – phone number, address (and google maps directions), their website, opening hours and rating with reviews. Photos, videos and virtual tours of your business as well as the ability to do things like book an appointment are also made available.
Alternatively, if you're on Google Maps and you search for a local business, pins will show up on the map giving you all of the local businesses that have claimed their free listing that fit your search criteria. When you hover your cursor over a pin, the business information pops up. Google My Business Listings are thorough and provide the person looking for your business with everything they need regarding your business in one place. They are also mobile friendly making it easy for people to click and call or click and receive navigation to your front door.
Here is an example of a popular search looking for a local Sydney fruit and vegetable producer who delivers: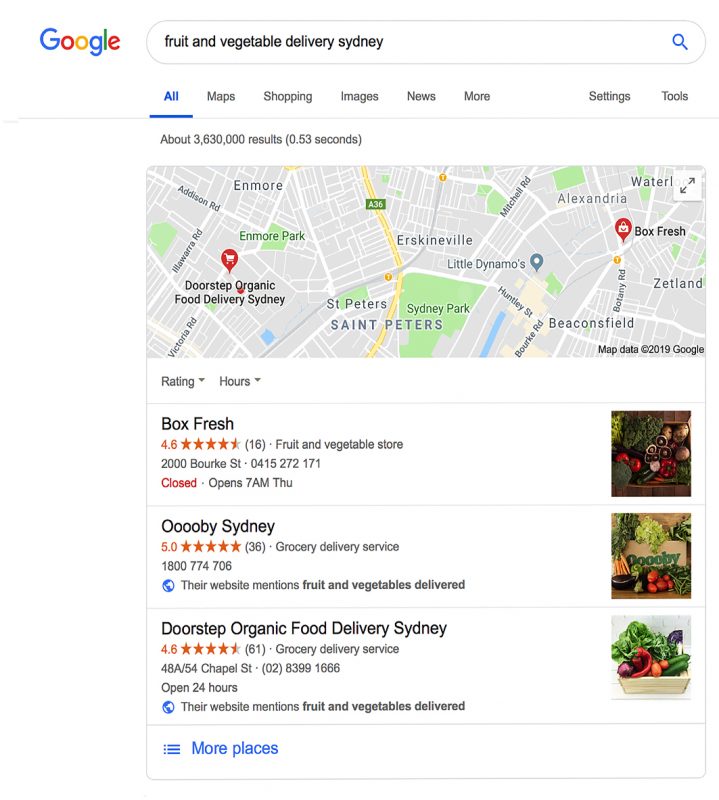 Google My Business Listings are free! There are no hidden fees or small print to worry about.
Google is constantly improving, evolving and developing new technologies and practices with the user in mind. This is one of the many benefits of working within the Google search engine framework. They want to stay on top of the search engine hierarchy and while they are making searches and using Google easy to use for everyone, they are securing their search engine dominance in the Australian and other world markets.
There are many reasons to have a Google My Business Listing
 It allows your customers and clients to leave reviews of your business that are easily seen by even casual viewers.
•    Your business becomes highly visible on Google Maps.
•    Many companies haven't made a Google My Business Listing, which means you get a huge advantage over your competition when it comes to being noticed online.
•    Your customers and clients get easy travel directions to your physical business location.
•    There are more opportunities for potential customers to either deliberately find your business or to virtually stumble across it.
•    Gets your business' contact info, hours of operation, and website link in front of viewers in a concise and user-friendly way.
•    You and your customers can add pictures to your Google My Business Listing which can display both your products or services and can get across the voice or vibe of your business. Studies have shown that viewers will often use photographs to help them decide between similar companies – so let them see all those smiles!
•    Makes it easy for your customers or clients to share their happiness with your business by giving you a +1 for your Google My Business Page which gets shared with their entire contact list, making for a quick and easy word of mouth advertising.
•    Your Google My Business Page allows you to have ongoing conversations with your client base meaning you can build a loyal and friendly following.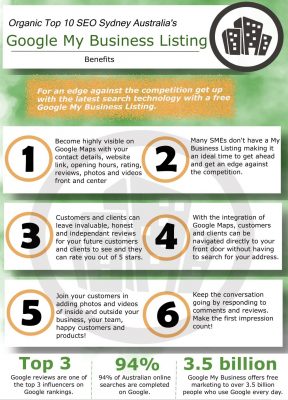 Get Your Business the Attention it Deserves
You've put a lot of your time, sweat, tears and money into your business. We want to help you shout an invitation across the internet for everyone to come and see what you've accomplished.
50% of people who search for a business on their mobile phones visit it within 24 hours (Triad Web Design Service 2018).
Organic Top 10 SEO in Sydney can help you get your Google Business Page set up right. With appealing and helpful content, you will be drawing in visitors and customers to your website and through your front door.
See you on page 1!!!
Want to learn more about local SEO? We have you covered! Check out this page on local SEO and as always, don't hesitate to contact our SEO specialists. We are always happy to hear from you.
Sources
• Google 2019, Google My Business, Google
• Triad Web Service 2018, '10 Benefits of Using Google My Business to Attract More Local Customers and Clients'
• Moz 2018, 2018 Local Search Ranking Factors, Moz, viewed 30 April 2019
• StatCounter 2019, Search Engine Market Share Australia, StatCounter, viewed 30 April 2019
• Internet Live Stats 2019, Google Search Statistics, Internet Live Stats, viewed 30 April 2019